Hello everyone, what's up ! Are you waiting for another awesome post ? Don't worry. If we are late or not, each post will be an extraordinary one. So today also we are going to introduce another useful application for you. I think that the function of this application is the same as another application that we introduced before. But the features are entirely different. Are you confused ? Don't worry. I will give you a brief about this application. For that read this article completely.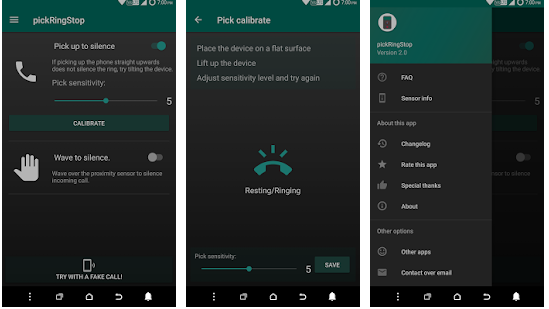 Pingringstop
This is the name of this application. Do you understand anything about this application while you see the name of this application ? Because the name of this application is a special one. Like other applications we aren't able to to recognise the feature of this application from the name of this application. Sorry this article completely and you will understand all the details regarding this application.
Silences the ringtone
silencing the ringtone is the important feature provided by this application. If you didn't know about this feature you will get it if you read this article completely.
What is this feature ? 
Using this feature you are able to silences the ringtone of your smartphone very easily. Do you know how ? But before that let's understand when this application becomes a useful one. 
If you receive calls and don't want to pick it up, you will press the volume button to silence the call. This is the most common feature everyone knows.
But if the volume button of your smartphone has any problems and it doesn't work, what will you do ? Here we are able to apply the features of this application to solve this problem very easily.
That means if you want to silences the ringtone without using the volume button, this application will help you. You just want to wave your hand over your smartphone. If you do like this the incoming calls get silence. This is really a cool feature.
This application is working with the help of the proximity sensor. The previous application also has proximity sensor related features. This application is also like that. This application also works with the proximity sensor feature.
That means while you wave your hands over your smartphone, it is over the proximity sensor of your smartphone. So it will be detected by the proximity sensor and the incoming calls get silenced very easily.
This application uses accelerometer reading to pick up motion and proximity sensor reading to detect wave motion. You can also change the ' pick sensitivity ' if necessary. No service is constantly running while you use this application. So this application will not drain your battery. So you are able to use this application with much ease.
How to install
Click on the ' download now ' button to install this application. After installing it, open it and provide necessary permissions to use this application.
So that's all about the Pingringstop application. I think you understand everything about this application after reading this post. 
See you soon with another awesome application.
click here to install this app